Seal Arizona Criminal Records
Phoenix Criminal Record Sealing – Attorney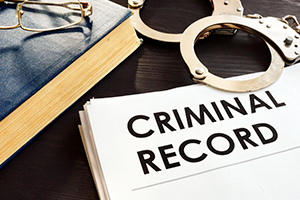 Beginning January 1, 2023, Arizonans will finally be able to seal their criminal case records from public view. This applies to arrest, conviction, and sentencing records for eligible offenses. Criminal record sealing will provide improved access to people seeking employment, public housing benefits, loans, and financial aid.
Arizona has been behind the curve in terms of available options for post-conviction relief and the availability of criminal record sealing is certainly one step in the right direction. Unlike many other states, Arizona has never codified a law allowing for full conviction expungement. The absence of expungement options has certainly put a heavy burden on millions of Americans with Arizona convictions who struggle daily with the collateral consequences of a felony record.
Having your criminal record sealed in Arizona is not the same as expunging a conviction. A sealed record is shielded from public searches, but may still be used against you in court as a prior conviction for sentence enhancement purposes, among other limitations. Read on below to learn more about criminal record sealing in Arizona and the benefits.
How Do I Have My Arizona Criminal Records Sealed?
If you are ready to get the process started, contact Phoenix post-conviction relief lawyer, Sheena Lemmons, at Civil Rights Restored DUI & Criminal Defense for a free consultation.
We are passionate about applying our legal knowledge to help people with the goals of rehabilitation, reintegration into society, and access to a cleaner criminal record. A person's past does not define them and should not be permitted to be a harsh barrier to life's opportunities.
Call us at (480) 759-7479
We will answer your questions, draft the petition, and file with the court on your behalf.
What Does Arizona Criminal Record Sealing Do?
Record sealing shields a person's criminal record from public view via online searches and to the release of information to unauthorized individuals or entities. Having criminal records sealed offers a productive form of rehabilitation where the affected person can better reintegrate into society and have "second chance."
The biggest advantages of sealing your criminal record in Arizona will be for people looking for employment, housing, to obtain financial aid, and on loan applications.
If the court grants a person's petition to seal their records, that person may state in all instances, including on applications for employment, housing, loans, or financial aid, that they have never been arrested for, charged with or convicted of the subject crime.
Unfortunately, several limitations apply to the non-disclosure of sealed criminal records. The statutory list of exceptions is a long one and can be found in A.R.S. 13-911(I)(5). Despite the limitations to record sealing in Arizona, the benefits should outweigh the restrictions and afford people a much better chance to reintegrate into society without the readily accessible public stigma of their criminal record being made available to be found by anyone with a computer.
Record Sealing and Fingerprint Clearance Cards, Drug Offenses, and Child Safety
Criminal records sealed must be disclosed when the disclosure is required by a state or federal law. Record sealing will have little to no impact on individuals applying for a fingerprint clearance card and the fact of criminal records, sealed or not, must be disclosed. Disclosure is also required for people whose sealed criminal records involve a drug offense under Title 13, Chapter 34. Records must also be disclosed when a person is undergoing a background check for the placement of a child who is in the custody of the department of child safety.
Disclosure of Sealed Records on Applications in Arizona
If a person is applying for a job, records must be disclosed when asked if the violation has a relation to a job being applied for. Here are a few examples requiring disclosure:
A driving under the influence (DUI) conviction on an application for a job involving operating a commercial or private motor vehicle, boat or airplane.
Theft or fraud criminal records on an application for a job in accounting, handling or managing another person's money or financial assets.
Child abuse or aggravated assault records on an application for a job involving supervising, educating or administering care to minors.
Any sealed records if asked for a job with a law enforcement agency, a prosecuting agency, a court, the department of child safety, and the department of corrections.
Can My Arizona Criminal Records Be Sealed?
There are several factors to evaluate regarding the facts of your case to determine whether your criminal records are eligible for sealing. We look to A.R.S. 13-911 for the criteria (cited Sept. 2022).
Our Phoenix Criminal Defense Attorney is ready to go over the facts of your case with you.
Call us at (480) 759-7479 for a free consultation.
Types of Criminal Records That Can Be Sealed in Arizona
A person must apply to the court to have their eligible criminal records sealed. This is not an automatic process and the granting of the petition is in the discretion of the court. A person may petition the court to seal all case records of an Arizona criminal offense if you were:
Convicted of a criminal offense and completed all of the terms of your sentence, and paid all fines, fees, and restitution owed to the court, including victim restitution.
Charged with a criminal offense which was later dismissed or resulted in a not guilty verdict at a trial.
Arrested for a criminal offense and no charges were filed.
Waiting Period to Seal Arrest and Conviction Records in Arizona
There are different waiting periods before you can apply to seal criminal records AFTER completing the conditions of probation or sentence and being discharged by the court. The waiting periods depend on the class of felony or misdemeanor conviction and the number of criminal offenses on your record.
Waiting Periods Under A.R.S. 13-911(E), (F), and (G) (as of Sept. 2022):
One Conviction Only – In Order to Apply to Seal Criminal Records in Arizona, You Must Wait:

10 years – class 2 or 3 felony
5 years – class 4, 5, or 6 felony
3 years – class 1 misdemeanor
2 years – class 2 or 3 misdemeanor

One Prior Historical Felony Conviction – In order to Apply to Seal Arizona Criminal Records with One Prior Felony, You Must Wait:

An additional 5 years beyond the waiting periods listed above.

Two or More Convictions

You must wait until the period of time listed above has passed for each conviction.
Free Case Review
Our Arizona post-conviction relief attorney is available to provide you with a free case review at (480) 759-7479.
You can discuss the facts of your case and criminal record to help determine your eligibility to have your Arizona criminal records sealed.
What Arizona Criminal Records are Excluded From Being Sealed?
Certain types of criminal records are not eligible to be sealed. Record sealing does not apply to a person who is:
Sentenced as a dangerous offender.
Convicted of a dangerous crime against children.
Convicted of a serious offense.
Convicted of an aggravated felony.
Convicted of an offense involving the discharge, use or threatening exhibition of a deadly weapon or dangerous instrument; or the knowing infliction of serious physical injury to another.
Convicted of sex trafficking.
Convicted of a class 2-5 sexual offense felony.
If My Arizona Criminal Records are Sealed, How Can They Be Used Against Me?
The sealing of criminal records in Arizona has the effect of shielding the view of records from public view. It does not offer the legal effects of record expungement, which means the state can use the sealed records against you in court as if the records are not sealed.
All case records that are sealed may be:
Used as a conviction if it is admissible (as if it had not been sealed),
Used in any subsequent prosecution of the person,
Alleged as a prior felony conviction,
Alleged as an element of an offense,
Used to enhance the sentence for a subsequent felony,
Used to enhance the sentence for misdemeanor DUI under A.R.S. 28-1381 and 1382,
Admissible to impeach a party or witness in trial.
Who Can My Arizona Sealed Criminal Records Be Shared With?
If the court grants your petition to seal your Arizona criminal records, access to your records from the court will be limited to 1) you, 2) your attorney, 3) the victim in the case, and 4) the official duties or hiring practices of the court, law enforcement agencies, prosecuting agencies, probation departments, department of child safety or child welfare agency, and any Arizona correctional facility.
Ready to Get Started?
Call now to get answers your questions about having your Arizona conviction sealed. It is not too early to get started!
Free Consultation With an Arizona Post Conviction Relief Lawyer (480) 759-7479.
At Civil Rights Restored, our criminal defense attorney, Sheena Lemmons, is local to Phoenix, Arizona and wants to help you resolve your case. If you were arrested, charged with a criminal offense, or seek post-conviction relief, we defend cases in Maricopa County including Phoenix, Scottsdale, Tempe, Gilbert, Chandler, Mesa, Ahwatukee, Glendale, Avondale, Laveen, and more.
Resolve Your Case
Fill out the contact form or call us at
(480) 759-7479
to schedule your free consultation.
1

We Will Review Your Case

2

We Will Contact You for a Free Consultation

3

We Work With You to Build Your Best Defense