Unlawful Flight / Felony Flight
Phoenix Unlawful Flight Attorney, Sheena Lemmons at Civil Rights Restored DUI & Criminal Law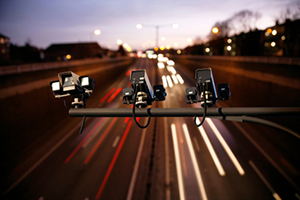 In Arizona, if you are lit up by police while driving and attempt to flee or elude law enforcement, you may be charged with unlawful flight from police. Also known as felony flight, unlawful flight from pursuing law enforcement is a class 5 felony. If convicted, a class 5 felony conviction in Arizona carries harsh consequences such as potential incarceration, driver's license revocation, heavy fines, a loss of civil rights, and a permanent felony on the person's criminal record.
In some circumstances, an unlawful flight charge arose out of a mistaken identity of an unmarked law enforcement vehicle where the driver honestly did not know the vehicle pursuing them was a police officer. In other cases, listening to your radio too loud or talking on your Bluetooth device may have contributed to failure to hear police sirens and being charged with unlawful flight.
Fortunately, Civil Rights Restored Phoenix & Scottsdale criminal traffic attorney is prepared to challenge the facts of your case, clear up any misunderstanding with police, and employ modern defense strategies to get you results.
If you were charged with felony flight / unlawful flight, Sheena Lemmons at Civil Rights Restored defends cases in Maricopa County including Phoenix, metro Phoenix area, Scottsdale, Tempe, Gilbert, Chandler, Mesa, Ahwatukee, Glendale, Avondale, and more.
Call us for a free consultation to start building your defense today.
What is Unlawful Flight / Felony Flight in Arizona?
Unlawful Flight is defined in A.R.S. 28-622.01 (2022).
A person driving a motor vehicle in Arizona is prohibited from willfully fleeing or attempting to elude a pursuing official law enforcement vehicle.
The term "willfully" here means that the driver knew the vehicle pursuing them was a law enforcement vehicle.
In cases involving an unmarked police vehicle, the prosecution would have to prove beyond a reasonable doubt that the person either admitted to knowing the vehicle was law enforcement or the evidence shows the driver knew it was law enforcement.
Circumstantial evidence showing that a person knew it was a law enforcement could involve factors such as after the police vehicle turned on their overhead or grill lights, the driver abruptly accelerated and attempted to flee. A driver may violate numerous traffic laws during an attempt to flee such as running stop lights or red lights, failure to use turn signals, and speeding, leading to additional charges.
Can You Get Charged With Unlawful Flight in Arizona for Pulling Over Too Slow?
Yes, this scenario is fairly common. In cases where a driver is playing music loudly or is otherwise distracted, they may not notice the police pursuing them immediately, leading to felony flight charges. We will work with you on clearing up any misunderstandings with police regarding your circumstances, if this has happened to you.
Can You Get Charged With Felony Flight in Arizona if You Couldn't Tell It is a Police Car?
Yes. The unmarked police vehicle in Arizona is widely used, varies in appearance, and it is sometimes difficult to tell if it really is a law enforcement vehicle. In some cases, an individual may be afraid or unwilling to pull over because they just are not sure it's actually police signaling them to stop. This is potentially an understandable mistake, depending on the circumstances. Our Phoenix felony flight lawyer will work with you on sorting out any misconceptions with the law enforcement agency.
What are the Penalties of Felony Flight / Unlawful Flight in Arizona?
Felony flight / unlawful flight from police in Arizona is a class 5 felony. Penalties for a first-offense conviction of a class 5 felony may include:
Class 5 felony record
Potential incarceration of 6 months – 2.5 years
Your driver's license may be revoked for 1 year
Up to 3 years felony probation
Additionally, you can expect your car insurance premium to increase or other negative impacts such as your policy being cancelled. A felony conviction also suspends certain civil rights such as the right to vote, hold public office, sit on a jury, and the right to possess a firearm. A felony conviction also has devastating consequences on a person's ability to obtain employment, government assistance and housing, professional licensing, and immigration issues.
Can You Expunge a Felony Flight / Unlawful Flight Conviction in Arizona?
Not currently. The state of Arizona does not offer conviction expungement for felony flight / unlawful flight. Therefore, the charge will remain on the person's criminal record for their lifetime.
However, the conviction may be eligible to be set aside after the person is discharged from probation or parole and has paid all court fines, fees, and restitution ordered.
See our Set Aside page for more information.
Defenses to Felony Flight / Unlawful Flight in Arizona
At Civil Rights Restored, Phoenix Felony Flight Lawyer, our goal is to achieve the best possible outcome for your case. What we do is we will review all of the evidence in your case to find the issues. We will interview all relevant police officers involved, review their dashcam, bodycam, interview any other witnesses, and challenge the state's evidence against you.
Misunderstandings are often the cause of felony flight charges. If you were arrested for unlawful flight, it is a defense if you did not willfully flee or try to evade the law enforcement vehicle. If we can show that the person was either slow to pull over or did not pull over after being lit up by police for another reason, such as for having loud music or an obstruction blocking their view of the police vehicle, the state may drop the charges or offer a plea to reduced charges.
Civil Rights Restored will challenge the accuracy and reliability of the officer's assertions negotiate with the state on your behalf. We understand the seriousness of these charges and will work hard to help you avoid a conviction or mitigate the damage as much as possible.
Ready to Resolve Your Felony Flight / Unlawful Flight Case?
If you are ready to start building your unlawful flight defense, contact Sheena Lemmons, Phoenix & Scottsdale felony flight attorney today.
Call us at (480) 759-7479 or use the contact form.
Let's start fixing this together.
Resolve Your Case
Fill out the contact form or call us at
(480) 759-7479
to schedule your free consultation.
1

We Will Review Your Case

2

We Will Contact You for a Free Consultation

3

We Work With You to Build Your Best Defense