Reckless Endangerment
Arizona Endangerment Laws
Phoenix Endangerment Attorney, Sheena Lemmons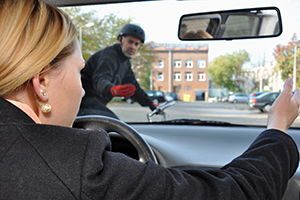 Endangerment as a category of offenses can be charged as a stand-alone offense or it can be charged along with other crimes. Endangerment is not strictly charged as a vehicular crime, however if a vehicle was involved in the commission of the offense, it is also known as "vehicular endangerment." Reckless endangerment and vehicular endangerment are treated the same in terms of sentencing.
Reckless endangerment involving a vehicle is often charged as a class 6 felony and a conviction is serious and carries steep consequences. For example, you could face up to two (2) years of incarceration for a non-dangerous offense and your driver's license would be revoked for one (1) year.
In some circumstances an endangerment charge may be offered by the State in a plea deal in exchange for more serious charges. However, reckless endangerment is a serious charge on its own and Civil Rights Restored defends endangerment cases aggressively to get the best possible outcome for you and your family.
If you have been charged with endangerment and are in Maricopa County including Phoenix, Scottsdale, Tempe, Mesa, Chandler, Ahwatukee or in the Metro Phoenix area, contact Civil Rights Restored for a free consultation.
What is Endangerment in Arizona?
Reckless Endangerment is defined in A.R.S. 13-1201 (2022) as:
When a person recklessly endangers another person with a substantial risk of imminent death or physical injury.
Endangerment is a class 6 felony if the act involved a substantial risk of imminent death.
In any other cases, it is a class 1 misdemeanor.
Often charged for offenses such as driving under the influence (DUI), excessive speed/speeding, car accidents involving injury.
Example: If a person is driving while impaired on alcohol, they would be considered DUI. If the DUI driver is speeding and does not notice a red light and continues through the intersection, they collide broadside on the driver's side of another vehicle in oncoming traffic at a high rate of speed. The non-DUI driver is seriously injured. The DUI driver may be charged with felony endangerment for recklessly endangering the other person with a substantial risk of imminent death. The State may allege the vehicle is a "dangerous instrument" and charge it as a "dangerous offense," making it even more serious.
What is Recklessly in Arizona?
"Recklessly" means that a person unreasonably and consciously disregards a substantial and unjustifiable risk.
Misdemeanor Endangerment
What is Physical Injury in Arizona?
For misdemeanor endangerment, the prosecution must prove the person recklessly endangers another with a substantial risk of "physical injury," which means the impairment of physical condition.
Felony Endangerment in Arizona
Commonly, the State will charge reckless endangerment as a class 6 felony. Here, the State must prove that the person recklessly endangered another with a substantial risk of imminent death, and not merely physical injury.
Dangerous Offense in Arizona
For reckless endangerment charged as a felony, the State may allege that the vehicle is a "dangerous instrument" capable of causing serious physical injury or death. In this case, the State will charge the offense as a "dangerous offense." This is the worst case scenario for an endangerment charge and must be defended seriously.
A dangerous offense means an offense involving the discharge, use or threatening exhibition of a deadly weapon or dangerous instrument. In this case, the "dangerous instrument" is the vehicle itself.
This is a severe charge and a conviction carries with it a mandatory prison term with no eligibility of probation. There are harsh lifelong consequences associated with a dangerous offense.
Sheena Lemmons, Phoenix DUI & Endangerment Attorney, is skilled at defending endangerment charges and wants to help you build your strongest defense. We will fiercely fight the State's allegation of dangerousness and work to mitigate the punishment.
Consequences of a Conviction for Endangerment in Arizona
A conviction carries harsh consequences and can have a negative impact on a person's life. In Arizona, a criminal conviction stays on a person's record for life. This will be used against you in any subsequent prosecution, so it is important to do everything possible to avoid this outcome.
Potential consequences of conviction:
Incarceration,
Heavy fines,
The loss of a job,
Professional licensing impacts.
Additionally, if you are convicted of felony reckless endangerment:
Your driver's license will be revoked for one (1) year. A.R.S. 28-3304(A)(2) (2022),
Your civil rights will be suspended, including the right to possess a firearm.
If you are convicted of a "dangerous" class 6 felony, your right to possess a firearm is permanently revoked. A.R.S. 13-910 (2022).
Below is a chart of sentencing guidelines for informational purposes:
State of Arizona Supreme Court Criminal Code Sentencing Provisions 2021-2022:
Misdemeanor Endangerment Penalties
Class 1 misdemeanor
Up to 6 months jail
Up to $2,500 fine
Up to 3 years probation
Felony Reckless Endangerment Penalties – First Offense
Class 6 Non-Dangerous Felony
Class 6 felony (designated or undesignated)
1 year incarceration presumptive term up to 2 years
1 year driver's license revocation
Up to 3 years probation
Class 6 Dangerous Felony
NOT PROBATION ELIGIBLE – MANDATORY PRISON
Class 6 designated dangerous felony
2.25 years prison presumptive term up to 3 years
1 year driver's license revocation
People convicted of a dangerous offense lose the right to possess a firearm forever. A.R.S. 13-910 (2022).
Note: If you have one or more prior offenses, the sentencing will be more harsh.
It is important for you to hire a criminal defense attorney skilled at defending these charges. Civil Rights Restored, Phoenix DUI & Endangerment Lawyer, is ready to aggressively defend your case and fight for the best possible result. We are local to Maricopa County and are familiar with the court system here. We will look for the problems in the State's case, mistakes by police, fight their evidence, and try for dismissal, reduced charges, or reduced penalties.
Call us to find out more (480) 759-7479.
Defenses to Reckless Endangerment
There are many potential defenses to reckless endangerment charges. The representation we provide is we will review all of the State's evidence and look for issues in their case and attack these issues to undermine and damage their case.
We are looking for problems such as: whether the police violated any of your Constitutional rights, policy or procedure violations, review the body cam/dashcam, interview all relevant officers and witnesses, hire expert witnesses for accident reconstruction, and challenge the accuracy of the police report.
We may also challenge the State on the grounds that they will not be able to prove their case beyond a reasonable doubt due to not being able to prove the elements of the offense:
There must be an actual risk (as apposed to merely a perceived risk)
The risk must be imminent (as apposed to unpredictable or weak)
Physical injury vs. death (for a felony, the risk must be of imminent death and not that of injury only).
You can expect exceptional representation from Sheena Lemmons, DUI & endangerment attorney. We will analyze all of the discovery in your case and find the problems.
Endangerment Frequently Asked Questions
What is the Difference Between a Class 6 Designated Felony vs. Undesignated Felony in Arizona?
A class 6 non-dangerous felony may be "designated" or "undesignated." They are treated the same in terms of sentencing. However, an "undesignated" felony is a "wobbler" felony that can eventually be reduced to a class 1 misdemeanor in some circumstances. In contrast, a "designated" class 6 felony is one that cannot be reduced to a misdemeanor and remains a felony on the person's criminal record.
Felony designation is an important negotiating point that Sheena Lemmons, Scottsdale DUI & endangerment attorney, is dedicated to arguing and getting the best results for her clients. We understand the implications of a felony on a person's criminal record and will do everything possible to argue for the most favorable result for you.
How to Reduce a Felony to a Misdemeanor in Arizona?
An undesignated non-dangerous class 6 felony may be reduced to a class 1 misdemeanor after completion of the sentence as long as the person has not previously been convicted of two or more felonies. A.R.S. 13-604 (2022).
We do provide post-conviction relief services to our clients and will submit a motion on your behalf for felony reduction.
Hiring a Criminal Defense Attorney in Maricopa County
It is important that you speak with a proficient criminal defense attorney who is familiar with the Maricopa County court system to help get the best possible results for your case. Give us a call for a free case review and let us go over the process with you. We will provide you with full-service representation and handle your case from beginning to end while you stay involved along the way.
We will get started on your case immediately after you hire us! We will send a message to the State that you are not going away without a fight.
Ready to Resolve This Case?
If you are ready to begin building your defense and want to talk with a skilled Scottsdale endangerment lawyer, contact Sheena Lemmons at (480) 759-7479 for a free consultation or use the web form.
Resolve Your Case
Fill out the contact form or call us at
(480) 759-7479
to schedule your free consultation.
1

We Will Review Your Case

2

We Will Contact You for a Free Consultation

3

We Work With You to Build Your Best Defense