Aggressive Driving
Aggressive Driving Attorney in Phoenix and Scottsdale, Sheena Lemmons at Civil Rights Restored.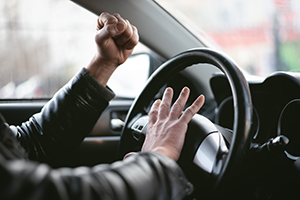 In Arizona, aggressive driving is defined under A.R.S. 28-695 (2022).
A person can be charged for aggressive driving if:
1. During a course of conduct the person commits a violation of either section 28-701, subsection A or section 28-701.02 [speeding and criminal speeding, respectively] and at least two of the following violations:
Failure to obey traffic control devices as provided in section 28-644.
Overtaking and passing another vehicle on the right by driving off the pavement or main traveled portion of the roadway as provided in section 28-724.
Unsafe lane change as provided in section 28-729.
Following a vehicle too closely as provided in section 28-730.
Failure to yield the right-of-way as provided in article 9 of this chapter.
and
2. The person's driving is an immediate hazard to another person or vehicle.
If you or a loved one were charged with aggressive driving, Civil Rights Restored defends cases in Maricopa County including Phoenix, metro Phoenix area, Scottsdale, Tempe, Gilbert, Chandler, Mesa, Ahwatukee, Glendale, Avondale, and more.
Call us for a free consultation and we will answer your questions about your case.
What are the Penalties of Aggressive Driving in Arizona?
A conviction for aggressive driving is a class 1 misdemeanor, which carries some heavy consequences.
6 months jail max
$2,500 fine, not including surcharges
3 years probation max
The offense is probation eligible and it is not likely the court would impose a jail sentence, absent aggravating factors.
Traffic Survival School
If you are convicted of aggressive driving, you are required to attend and complete Traffic Survival School. Click here for more information on Arizona Department of Transportation Motor Vehicle Division (MVD) approved Traffic Survival School.
Driver's License Suspension
The MVD may suspend the person's driving privilege for thirty (30) days.
Points Assessment on Your Arizona Driver's Record
The MVD will assess points against your permanent driver record. A conviction for aggressive driving is eight (8) points. Aggressive driving involves speeding and two other traffic offenses by statute. If you are found responsible for all of the underlying charges, the MVD will also assess three (3) points for speeding, as well as points for the other two offenses at a minimum of two (2) points each or more. This means you would have at the very least fifteen (15) points assessed to your record.
Second Aggressive Driving Offense in 24 Months
If you are convicted of aggressive driving twice within twenty-four (24) months, it is a class 1 misdemeanor. In addition to the penalties above, the MVD will suspend your driver's license for one (1) year.
Defenses to Aggressive Driving in Arizona
In order for the prosecutor to prove a person is guilty of aggressive driving, the state must prove all four elements of the offense beyond a reasonable doubt.
The state must prove that the person was 1) speeding, 2) a second enumerated traffic offense, 3) a third enumerated traffic offense, and 4) the person's driving is an immediate hazard to another person or vehicle.
Our Phoenix aggressive driving lawyer will challenge the state's evidence against you and find the issues in your case. Without proving all four elements of the offense, an aggressive driving charge does not stand and the state may dismiss the case.
Our goal is to produce the best possible result for your case. We will try for dismissal of charges, a favorable plea for reduced charges, potential reduction to civil charges, and to mitigate the damage as much as possible.
Ready to Get This Case Resolved?
If you are ready to resolve your case, contact Sheena Lemmons, Phoenix & Scottsdale aggressive driving lawyer today to start building your defense.
We are skilled in modern criminal defense strategies and will fight to get results for you.
Call us at (480) 759-7479 or use the contact form.
Let's start fixing this together.
Resolve Your Case
Fill out the contact form or call us at
(480) 759-7479
to schedule your free consultation.
1

We Will Review Your Case

2

We Will Contact You for a Free Consultation

3

We Work With You to Build Your Best Defense