Public Urination and Municipal Offenses
Phoenix Public Urination Attorney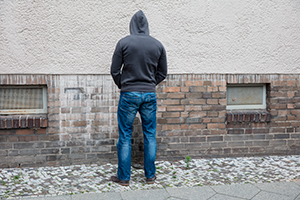 Arizona contains many cities and municipalities with their own code of ordinances. These laws are made by the city as opposed to the legislature of the state of Arizona. These "city codes" define conduct which, if violated, may result in criminal charges.
City codes broadly cover a wide array of potential offenses:
Urinating in public
Traffic violations
Animal control
Public nuisance
Weapons offenses
Drug offenses
Alcohol offenses
Recreational marijuana regulation
Offenses involving minors
Noise limitations
The list above is not exhaustive, but provides an example of the types of municipal offense cases we defend.
Charged with Urinating in Public in Scottsdale, Tempe, or Mesa?
Scottsdale City Code Urinating in Public Lawyer
Using Scottsdale's City Code as an example, urinating in public is a violation defined under their Code of Ordinances, Chapter 19, Sec. 19-19 (cited in Sept. 2022):
It is unlawful for any person to urinate or defecate in a place exposed to public view, except by proper use of a toilet or other suitable facility provided for this purpose.
It is a class 1 misdemeanor if you are charged with urinating in public under the Scottsdale City Code. A conviction is punishable by a mandatory minimum fine of $150, restitution, cleanup costs, and a misdemeanor on your public criminal record.
Phoenix Misdemeanor Attorney
While urinating in public under the Scottsdale City Code is just one example of a commonly charged municipal offense, we also defend people accused of violating criminal sections in other municipalities in Arizona:
Apache Junction Code of Ordinances
Avondale Municipal Code
Buckeye Municipal Code
Casa Grande City Code
Chandler Municipal Code
Coolidge City Code
Florence Town Code
Fountain Hills Town Code
Gilbert Municipal Code
Glendale Municipal Code
Goodyear Municipal Code
Mesa City Code
Paradise Valley Town Code
Peoria City Code
Phoenix City Codes
Queen Creek Town Code
Scottsdale City Code
Superior Town Code
Surprise Municipal Code
Tempe City Code
Tolleson City Code
Build Your Defense Today!
Our Scottsdale misdemeanor attorney is ready to aggressively defend your case.
We are dedicated to achieving the most favorable result possible for you.
Our goal is to damage the state's case against you and get results such as dropped charges, reduced charges, and mitigate the damage. To get started, give us a call to speak with a Maricopa County Arizona criminal defense attorney to go over the facts of your case.
Free consultation at (480) 759-7479.
Resolve Your Case
Fill out the contact form or call us at
(480) 759-7479
to schedule your free consultation.
1

We Will Review Your Case

2

We Will Contact You for a Free Consultation

3

We Work With You to Build Your Best Defense