Possession of Drug Paraphernalia
Phoenix & Scottsdale Possession of Drug Paraphernalia Lawyer
Civil Rights Restored, DUI & Felony Drug Offenses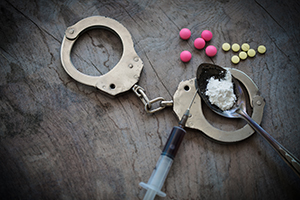 In Arizona, it is possible to be arrested for possession of drug paraphernalia, even if you do not have any illegal drugs in your possession. However, possession of drug paraphernalia is commonly charged along with felony possession of drugs or driving under the influence (DUI).
Possession of drug paraphernalia is a class 6 felony in Arizona. A conviction for a class 6 felony carries harsh consequences such as potential incarceration, fines, the loss of your civil rights.
A felony conviction also carries collateral consequences such as ineligibility for federal assistance, housing, occupational licensing, potential job loss, immigration issues, and child custody issues.
Scottsdale Possession of Drug Paraphernalia Lawyer
Civil Rights Restored is skilled at defending felony drug offenses and understands the seriousness of these charges.
Our approach is to attack the state's case against you by lodging legal challenges against their evidence, the Constitutionality of their procedures, and undermining the quality of the state's investigation. We will find the issues in your case and work hard to damage the state's best evidence against you to try for dismissal, acquittal, reduced charges, and mitigate the damage as much as possible.
Start building your defense today. Call us at (480) 759-7479.
Drug Paraphernalia Offense Menu
What is Possession of Drug Paraphernalia in Arizona?
In Arizona, possession of drug paraphernalia is defined in A.R.S. 13-3415 (2022).
The prosecution would have to prove beyond a reasonable doubt that:
You used, or possessed with intent to use
Drug paraphernalia.
What is Considered Drug Paraphernalia in Arizona?
Drug paraphernalia includes a wide range of objects that has anything to do with the use, cultivation, manufacturing, processing, and storing of a drug.
Some examples of Drug Paraphernalia include:
Bongs or pipes
Hypodermic syringes, needles, cocaine spoons
Containers, envelopes, or objects used to store or conceal drugs
Kits used to manufacture or process drugs
Kits used for planting or harvesting any plant that a drug can be derived from
Any measuring devices used to weigh drugs
What is the Penalty for Possession of Drug Paraphernalia in Arizona?
A conviction for possession of drug paraphernalia in Arizona results in a class 6 felony. A class 6 felony is the lowest level of felony in the Arizona criminal code. However, that does not mean it is not a serious charge. A class 6 felony still carries harsh consequences such as:
Class 6 felony on your criminal record
Potential incarceration of 0.33 – 2 years maximum
3 years felony probation
Loss of certain civil rights
DUI and Possession of Drugs and Drug Paraphernalia
If you were arrested for DUI and you had possession of drugs and/or drug paraphernalia, you can expect the state to charge you with several offenses such as:
Possession of Drug Paraphernalia A.R.S. 13-3415;
Possession of Drugs:
Driving Under the Influence of Alcohol or Drugs:
Can the Police Search My Vehicle if I am Arrested for DUI in Arizona?
Yes, and they will. The main issues here are whether the stop, arrest, and search are Constitutional. Our Phoenix DUI attorney is skilled at issue spotting problems with DUI cases and will challenge the state's evidence against you if your rights were violated.
The police will search your person and your vehicle if you are arrested for DUI in Arizona. This is often how the police find evidence of possession of drugs or drug paraphernalia during a DUI investigation or arrest. As an exception to the warrant requirement, a "search incident to arrest," is conducted to search for evidence of a crime as well as for safety purposes.
Another type of warrantless search is called an "inventory search" and is also a common means for the state to locate drugs or drug paraphernalia in a vehicle. An inventory search is inevitable if your vehicle is lawfully towed and impounded, such as due to a lawful DUI arrest. The police will make a detailed accounting of the inventory in your vehicle for the purpose of protecting your property, protecting the agency from claims of stolen goods, and for safety purposes to locate any hazardous items.
Defenses to Felony Drug Charges in Maricopa County
There are many potential defenses to drug paraphernalia and felony drug charges in Arizona.
Click here to learn more about defenses to felony drug offenses.
Scottsdale DUI & Drug Paraphernalia Lawyer
Get Help Now
If you are facing charges of possession of drugs or drug paraphernalia it is important to consult with a skilled felony drug offense attorney to review the facts of your case.
These are serious charges and Civil Rights Restored is an aggressive criminal defense firm that will challenge the state's evidence against you. Our goal is to help you get to the most favorable possible outcome for your case.
Time is of the essence in a criminal prosecution.
Start building your defense today. Call for a free consultation at (480) 759-7479.
Areas Served
If you were charged with possession of drug paraphernalia, Sheena Lemmons at Civil Rights Restored DUI & Criminal Defense wants to help you. We defend cases in Maricopa County including Phoenix, metro Phoenix area, Scottsdale, Tempe, Gilbert, Chandler, Mesa, Ahwatukee, Glendale, Avondale, and more.
All Arizona Revised Statutes cited on this page were cited in 2022.
Resolve Your Case
Fill out the contact form or call us at
(480) 759-7479
to schedule your free consultation.
1

We Will Review Your Case

2

We Will Contact You for a Free Consultation

3

We Work With You to Build Your Best Defense