Disorderly Conduct
Arizona Disorderly Conduct Attorney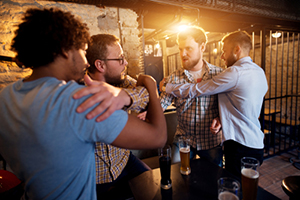 Disorderly conduct is one of the most commonly charged offenses in Arizona. As a category of crimes, it is classified as an offense against public order. Disorderly conduct is usually charged as a class 1 misdemeanor except in circumstances involving the reckless handling or discharge of a deadly weapon, such as a firearm. In that case, disorderly conduct will be charged as a class 6 felony and carries with it harsh felony sentencing, potential incarceration, heavy fines, and other collateral consequences associated with a felony, if convicted.
Maricopa County Disorderly Conduct Lawyer
At Civil Rights Restored, our disorderly conduct attorney, Sheena Lemmons, is local to Phoenix, Arizona and wants to help you resolve your case. If you were arrested and charged with disorderly conduct, we defend cases in Maricopa County including Phoenix, Scottsdale, Tempe, Gilbert, Chandler, Mesa, Ahwatukee, Glendale, Avondale, Laveen, and more.
Call for a free consultation at (480) 759-7479.
What is Disorderly Conduct in Arizona?
Phoenix Disorderly Conduct Lawyer
Disorderly Conduct is defined in A.R.S. 13-2904 (2022) and includes multiples definitions of acts that constitute the offense from making unreasonable noise, provoking others, fighting, and the unlawful handling of a firearm or other deadly weapon.
A person commits disorderly conduct if, with intent to disturb the peace or quiet of a neighborhood, family or person, or with knowledge of doing so, such person:
Engages in fighting, violent or seriously disruptive behavior; or
Makes unreasonable noise; or
Uses abusive or offensive language or gestures to any person present in a manner likely to provoke immediate physical retaliation by such person; or
Makes any protracted commotion, utterance or display with the intent to prevent the transaction of the business of a lawful meeting, gathering or procession; or
Refuses to obey a lawful order to disperse issued to maintain public safety in dangerous proximity to a fire, a hazard or any other emergency; or
Recklessly handles, displays or discharges a deadly weapon or dangerous instrument.
Disorderly Conduct Conviction in Arizona
If convicted of disorderly conduct in Arizona, the consequences depend on the facts of your case. Most disorderly conduct offenses result in a class 1 misdemeanor. However, if you were charged for disorderly conduct involving the reckless handling of a deadly weapon (#6 in the above list), then you will be charged with a class 6 felony.
Misdemeanor Sentencing in Arizona
If you are convicted of a class 1 misdemeanor offense in Arizona, then you may expect:
Up to 6 months jail
Up to $2,500 fine, plus surcharges
Up to 3 years probation
Felony Sentencing in Arizona
If you are convicted of a class 6 felony offense in Arizona, then you may expect:
0.33 – 2 years incarceration
Heavy fines/surcharges
Up to 3 years probation
A felony conviction carries harsh consequences such as a permanent felony record which makes it harder on people to secure employment, may cause ineligibility for loans, ineligibility for public benefits, and issues with child custody and immigration.
A felony conviction also suspends your civil rights such as the loss of your right to vote, hold public office, sit on a jury, and the right to possess a firearm. For people employed in law enforcement or military, that could mean the loss of your job.
Build Your Defense Today
Our Phoenix disorderly conduct attorney is ready to aggressively defend your case. Our goal is to achieve the best and most favorable result possible for you. The way we approach criminal defense makes the difference in your case. We get to work immediately on your case and treat every case as though it is going to trial from day one. That is how we get results for you, by aggressive and modern defense strategies to weaken the state's case against you. Time is of the essence in a criminal prosecution and we are ready to defend you.
Free consultation at (480) 759-7479.
Crimes Against Public Order – Scottsdale Criminal Defense Attorney
While disorderly conduct is the most commonly charged offense against public order, we also defend people accused of violating the below statutes in Arizona:
Unlawful Assembly A.R.S. 13-2902
Riot A.R.S. 13-2903
Loitering A.R.S. 13-2905
Obstructing a Highway A.R.S. 13-2906
False Reporting A.R.S. 13-2907
Criminal Nuisance A.R.S. 13-2908
Cruelty to Animals A.R.S. 13-2910
Public Nuisance A.R.S. 13-2917
Harassment A.R.S. 13-2921
Aggravated Harassment A.R.S. 13-2921.01
Stalking A.R.S. 13-2923
Unlawful transportation / harboring unlawful aliens A.R.S. 13-2929
*All statutes cited above were cited Sept. 2022.
What We Provide as Your Phoenix Disorderly Conduct Defense Attorney
We find the issues in your case and challenge the state's evidence against you.
At Civil Rights Restored DUI & Criminal Defense, our Phoenix disorderly conduct lawyer is dedicated to aggressive advocacy and getting you favorable results for your case.
How do we get results? We look at the facts of your case, review the discovery, and analyze how well the state conducted their investigation. We review all of the evidence, interview all relevant witnesses and officers involved and look for the existence of any procedural mistakes, violations of your Constitutional rights, and challenge the accuracy and reliability of the evidence.
We are not afraid to file legal challenges – our goal is to destroy or weaken the state's case against you and work for reduced charges, mitigated damage, or even a full dismissal.
Contact Sheena Lemmons, Phoenix and Scottsdale disorderly conduct attorney today. (480) 759-7479.
Resolve Your Case
Fill out the contact form or call us at
(480) 759-7479
to schedule your free consultation.
1

We Will Review Your Case

2

We Will Contact You for a Free Consultation

3

We Work With You to Build Your Best Defense